Get your questions answered in one easy-to-read document. Out Student Guide Book will provide you with the necessary information about our institution as it relates to the various aspects of our regulations and standards that govern our operations. To read the full content click the Learn More button below.
Learn everything you need to know about hydroponic growing, one of the most exciting and efficient ways to grow indoors and outdoors. Rest assured we are going to cover everything you need to know! From total beginner to seasoned pro. Sign up now to get the early bird discount.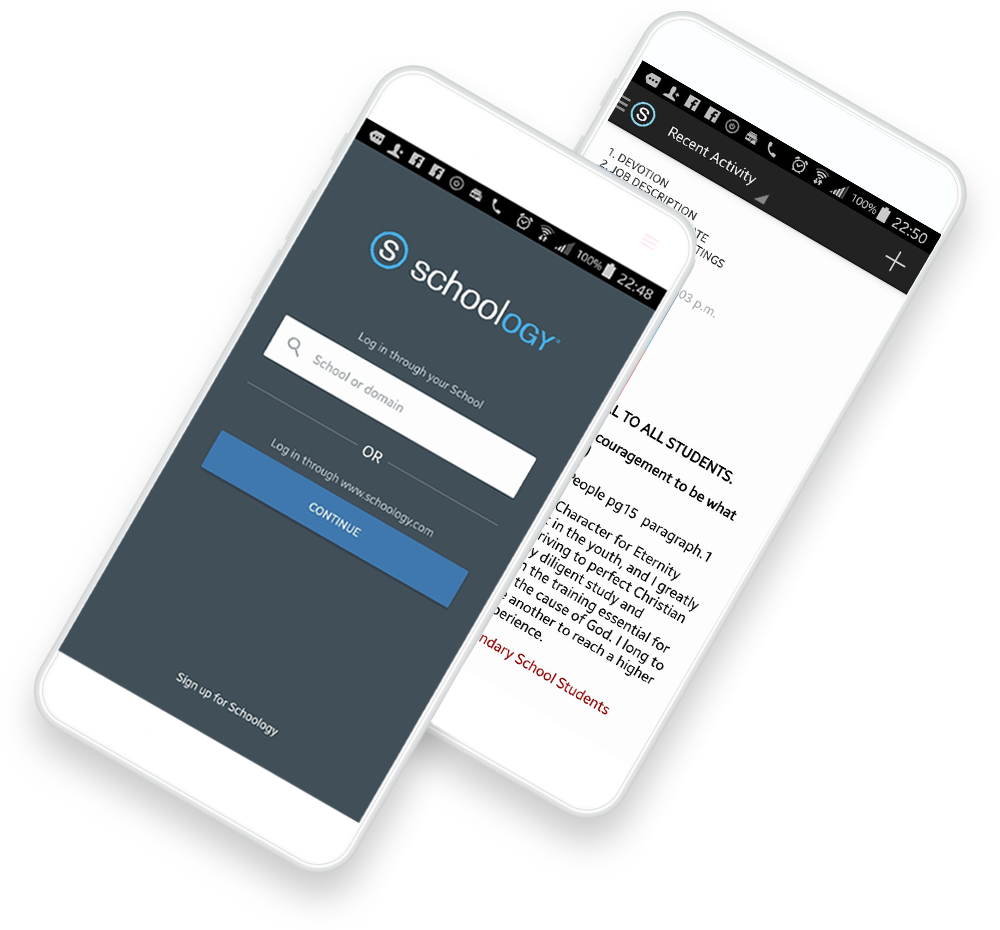 Learn Online
Caribbean Union College of SDA has partnered with Schoology in an attempt to blend the classroom with new and emerging technologies meets the demands of today's virtual learning requirements.
"My experience at CUC was honestly life-changing. I entered the school as a shy, introverted child. Through encouragement from my teachers and classmates, however, I've had opportunities to make great friends whom I can surely say will stick with me for life. The environment was welcoming, with teachers dedicated to going the extra mile to secure every students' path to success. Through guidance from my teachers, I have been blessed to achieve an abundance of academic success. I remember the school's sports day, where I loved to participate in the marathon with friends. The exhilaration I felt running with them encouraged me to take better care of my health and wellness. CUC allowed me to experience multiple facets of life, all of which continue to change me for the better."
"For the past four years and counting that I have been attending this school, it has been a wonderful experience, both spiritually and physically. I am proud to be a student at Caribbean Union College. All the members of staff are very understanding and helpful. They also know how to teach in different ways so each child can understand. This school also offers many extra co-curricular activities that all the students enjoy. The students at this school are kind and pleasant."
"My experience attending CUC for the past 5 years was tough and stressful but I made great memories I will cherish forever; lots of life lessons and experiences that will change my life for the better. The teachers were a big help with my academic life and in guiding me to my future goals but it didn't come easy. I had to also put in the work, the effort, and long nights, however, it was the best part of the start of my journey. I will forever be thankful for CUC because I cannot forget where I started. From being one of those students behind everyone to getting my passes and being accepted at a university of my choice. There is still more I have to accomplish, nevertheless, once again, thank you Caribbean Union College Secondary School for a great experience."
"My experience here at Caribbean Union College Secondary School so far has been one of great erudition and culture. Before C.U.C Secondary, there wasn't much I knew about the Seventh Day Adventist institution; but since coming here I have learned a great deal! Not only education-wise but also religiously and spiritually. C.U.C Secondary prepares me daily for the outside world and continues to teach me many life lessons."
"I've attended C.U.C. for five years. The journey was not easy but I made it. My experience at Caribbean Union College was amazing. The teachers were supportive, loving, caring, and also understanding. The students and friends I've made throughout the years were loving. As a Seventh Day Adventist, attending a school with the same religion was helpful. The religious education at chapel helped me become closer to God. Throughout my five years of school, I've realized my talent for singing as well as my love for playing the piano. It is worth mentioning that in form 3, all the students had to attend a career day to decide what career path we would choose in order to select subjects for form 4. It was that day I decided I would like to become a family lawyer. I have finished secondary school with seven (7) subjects and am currently studying Law at the University of the West Indies."

"For the first time in his life my son jumps out of bed first thing in the morning without being told to get up, does his homework without being told, has completely eliminated video games from his life, and spends all his free time on creative projects. This school has transformed our lives."
B
uilding skills that lead to success!